The Coat of Arms of the Tocchi family
In the Castle's Acropolis, there is a coat of arms engraved on a well. It belonged to Carlo I Tocco, who was the count of Kephalonia and Despot of Epirus from 1416 until his death. The Tocchi family came from Benevento, Campania.
This elaborate coat of arms includes in the right half side the two-headed eagle, emblem of the Byzantine Empire, and the Palaeologus family, and its left side is divided into two parts. The coat of arms of Tocco is depicted from the middle and below, and above is the coat of arms of Robert, who was the sovereign of Carlo. This part attributes Robert's double capacity, as prince of Achaia and as heir to the throne of the Latin Empire of Constantinople.
The coat of arms of Carlo I Tocco at the Castle of Arta is a rare and valuable material testimony for the feudal organization in Greece during the late Middle Ages but also of the presence of an Italian ruler in Arta.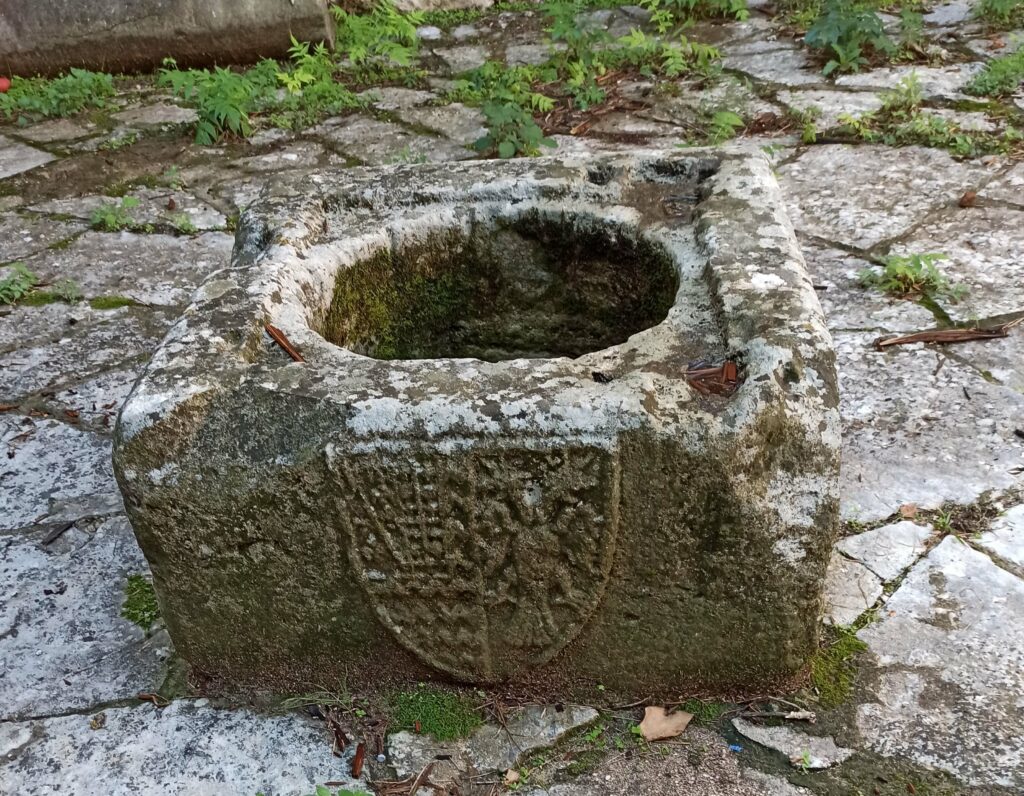 Documentation about the Coat of arms
The prevailing hypothesis to this day, according to Orlandos' study (he was a Greek architect and historian of architecture) was that "this coat of arms belongs possibly to the Orsini family". Because first of all, the Orsini had entered intermarriages with Princesses by the Palaiologos family, and second of all, they had as their emblem the double eagle head when they became "Despots of Arta".
However, this hypothesis has recently changed due to a new historical analysis according to Brendan Osswald (Scientific member of the French School of Athens) and his study, "the coat of arms is now attributed to the Tocchi family as it is a valuable testimony in various fields".
Osswald's study examines the coat of arms, which is located on the edge of a well in the medieval fortress of Arta. Osswald proves, on the contrary, that it must be attributed to another Italian dynasty, the Tocchi, who reigned in Arta from 1416 to 1449. The composition of the arms demonstrates that the insignia of the Tocchi is linked to that of the princes of Taranto, titular emperors of Constantinople, and the famous Byzantine double-headed eagle. It studies the signification of the arms and replaces them in the context of the heraldry of the Tocchi family, of the Western heraldry connected to Byzantium, and of the Byzantine heraldry. Finally, it studies their posterity in the later arms of the descendants of the family.